Paradise in Phuket: An Oceanfront Villa
Phuket, Thailand has earned a swanky reputation, solidified by an array of multi-million dollar residences. One such residence, a private five-star oceanfront villa, can be found on the island's exclusive Millionaire's Mile.
Imagine a place where the temperatures comfortably fluctuate between 70 and 90 degrees all year long. Where there are national parks, beautiful white sand beaches, and warm turquoise waters; the kind of place where wild nightlife and secluded getaways coexist. Imagine friendly faces and a diverse population, fusing their backgrounds together to create an island full of international restaurants, homes, hotels, and shops. That place is Phuket, Thailand, and the island is a popular getaway destination for the world's elite.
Phuket has earned itself a swanky reputation, and it has all of the luxurious establishments to prove it, including multi-million dollar residences. Set upon a hill alongside the famous Millionaire's Mile is exactly the kind of home that has lent a hand to the island's upscale image — a six-bedroom, six-bath private, five-star villa with sweeping vistas of the Andaman Sea.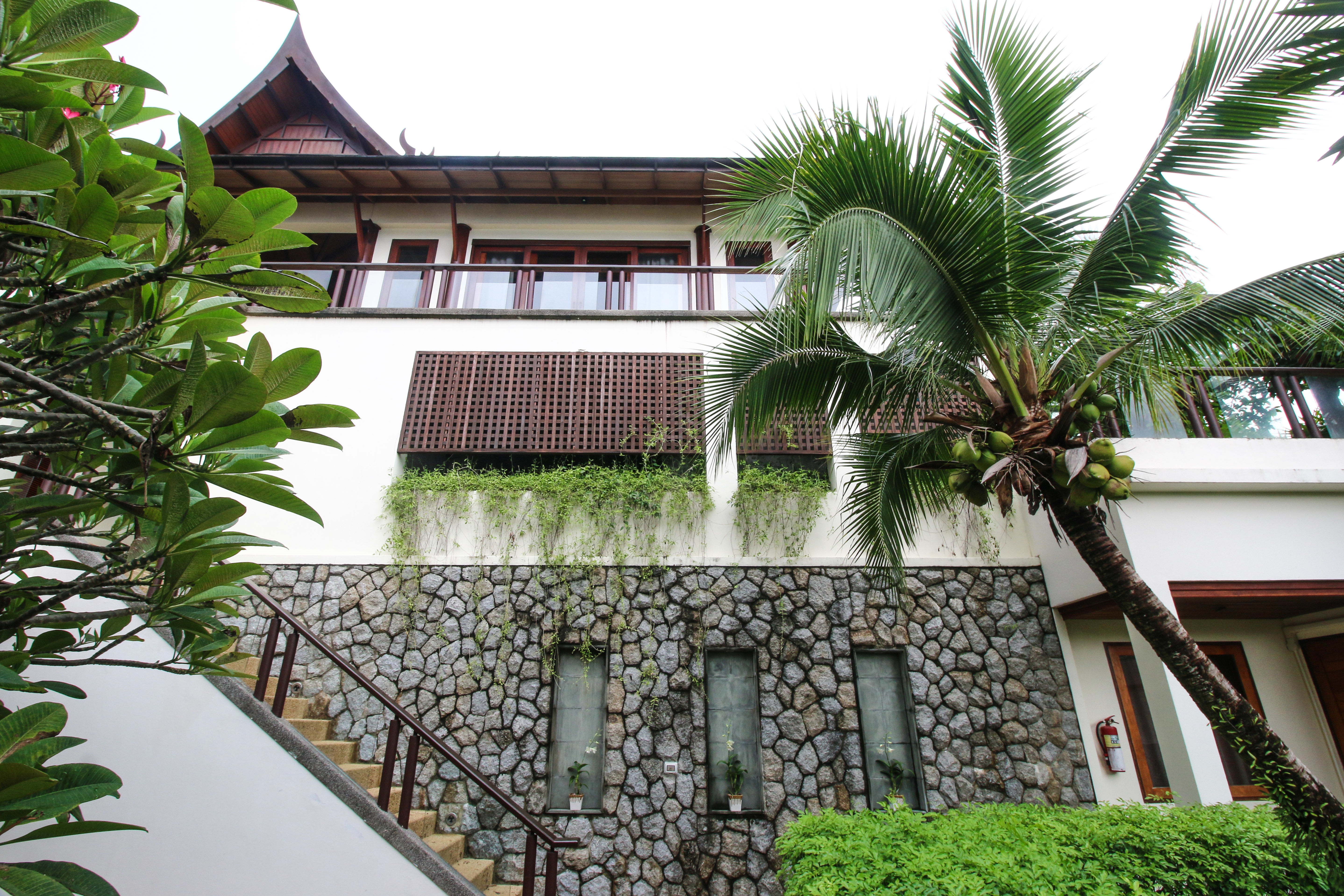 Amazing Villa Vistas
Upon entering the property, there is an instant sense of calm; stone walls, beautiful traditional Thai architecture, Buddhist statues, water features, lush vegetation, and fragrant flowers combine to infuse the villa with a soothing atmosphere. The compound's size and symmetrical design evoke a sense of awe, as do the swaying palms lining the central lawn and an infinity lap pool, whose edge appears to seamlessly meet the sparkling Andaman Sea beyond. The uninterrupted ocean views are enjoyed in total privacy from the comfort of a large sala bed or one of the many sun loungers. The west facing pool is also the perfect stage from which to watch an unforgettable sunset. Every evening the sun paints a unique picture in the sky. It favors cotton candy pinks one evening and fiery oranges the next — colorful displays that soon disappear below the horizon and give way to a comfortable evening and starry night sky.
Resort Atmosphere at Home
The villa consists of a series of standalone buildings, each one exuding traditional Thai charm in both its architecture and interior design. Set on 29,000-square-feet of land, the buildings combine to offer an internal living space of 7,535 square feet. The property spans multiple levels, each of which can easily be accessed via an elevator. One of the highlights is the luxurious master bedroom with soaring ceilings, a spacious retreat that occupies its own building with large windows overlooking the pool area. The ensuite bathroom, complete with Jacuzzi bath tub, rainfall shower, and separate water closet, is separated from the main sleeping area by a hallway of custom closets. The villa's remaining five bedrooms are spacious and equipped with every modern comfort such as walk-in closets and ensuite bathrooms, ensuring no guest gets the short-end of the stick. Descend the staircase beside the pool to reach two additional bedrooms, both of which enjoy access to a beautiful garden overlooking the ocean. This lower level also features an ocean-facing spa room, where guests can enjoy an array of treatments with a view.
Across from the master bedroom, another separate building houses the living room, a powder room, and a beautiful study with a large picture-window framing the lovely palm trees outside. Perpendicular to the study there is a dining room and a large family kitchen, both boasting views towards Kamala Bay and Surin Beach. Head down the central staircase and the remaining three bedrooms can be found, each with balconies offering the same stunning views.
With its extraordinary location, tranquil setting and relaxing atmosphere, this property is sure to impress. For more information and photos of this stunning villa, please visit Coldwell Banker Thailand.
LAUREN CAREY
|
23-Nov-2015